The Day I Met Jesus: The Revealing Diaries of Five Women from the Gospels
by Frank Viola & Mary Demuth
is a run-away bestseller!
The book hit #2 on the CBA (Christian Book Association) Bestseller list
"What a treasure!" ~ Lysa TerKeurst, New York Times bestselling author; president of Proverbs 31 Ministries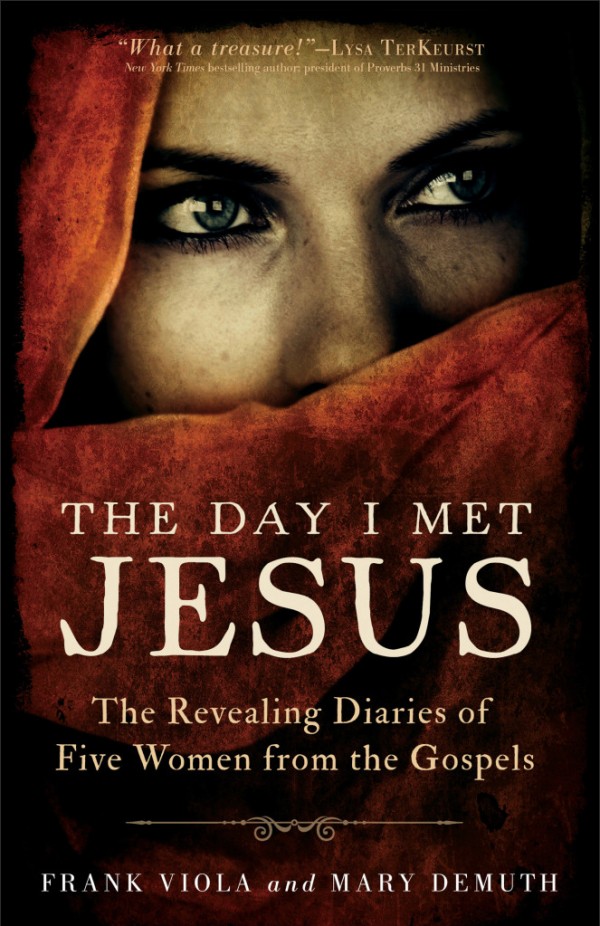 What follows is a description of the book with glowing endorsements and a free "Taste Test" sampler of the book.
Two thousand years ago, Jesus Christ met face-to-face with people just like you. Broken, imperfect, sometimes fearful and without hope. The Day I Met Jesus is a beautifully crafted narrative that chronicles the remarkable encounters of five women in the Gospels who were desperate to find wholeness, security, and purpose. Like all of us, these women struggled with the regrets of their pasts, the stresses of their presents, and the worries of their tomorrows.
Join Frank Viola and Mary Demuth on a fascinating journey back in time as they retell the dramatic accounts of five women who met Jesus. Each narrative is told from each woman's unique perspective, yet tightly grounded in the Gospel accounts and faithful to first-century history. Elegantly written and profoundly stirring, this book blends creative narrative with uncommon insight, spiritual depth, and practical application.
If you are someone who seeks a renewal of hope, faith, and love, The Day I Met Jesus will make your Bible come to life and usher you into a fresh encounter with your Lord.
Endorsements for The Day I Met Jesus
Jesus, from the very beginning, has been 'good news for women.' Perhaps that news has rarely been needed more clearly than in our day. One reads of His encounters with the women described in this book with a sense of wonder that these interactions took place two thousand years ago. He is good news for women still."

John Ortberg
What a treasure this diary-style book is! This impactful message focuses on five broken women in the Bible and their life-changing encounters with Jesus. The way Mary and Frank portray their stories will help any woman who has experienced heartbreak, loneliness, and rejection step right into the extravagant grace and love of Jesus."

Lysa TerKeurst, New York Times bestselling author
Mary and Frank provide a fresh look at biblical women that breathes life, color, and hue into these familiar stories. If you want to better understand the richness of biblical accounts in the context of first-century history, this is a book you won't want to miss."

Margaret Feinberg
The Day I Met Jesus is a refreshing look at five women in the Gospels, telling their stories in a way that brings them to life but at the same time based on careful research into the real world in which they lived. I thoroughly enjoyed this book and could not put it down. Through the eyes of women whose lives Jesus touched, this book invites us to see Jesus more deeply. It ministered to broken places in my own heart."

Craig Keener, professor of New Testament, Asbury Theological Seminary
Step into the first century, as your senses and imagination are engaged in Mary DeMuth's masterful biblical narrative, deftly exploring the hearts and minds of five women who met the Savior. Then Frank Viola brings his own gifts to the page, opening the Scriptures to help us understand each account more fully. Together, their voices sing of the beauty of Christ and the redemption He offers. The Day I Met Jesus is truly a wonderful book."

Liz Curtis Higgs, bestselling author of Bad Girls of the Bible
We all long to lift the veil of history and catch a glimpse of the real story–the one that makes our hearts pound, our faith grow, and our lives change. That's exactly what Frank Viola and Mary DeMuth offer in this compelling book. You will never look at Scripture or God's work in your own heart the same way again after you close the final page."

Holley Gerth
Elegant, stimulating, rewarding, this probe into Jesus' relationship with women packages the best of biblical scholarship and theology in the spellbinding wraps of storytelling."

Leonard Sweet, bestselling author; professor (Drew University, George Fox University); chief contributor to sermons.com
Story. History. His-Story. This book has all of these and immediately gripped my heart. I held my breath as I read about women who encountered Jesus in their day. I absolutely love books that compel me to love Jesus more. Together, Frank Viola and Mary DeMuth created a masterful biblical narrative that reminds us once again how Jesus feels about the sinner who desperately needs saving. He loves us. He came to save us. Enjoy every page of this book. You'll be glad you did."

Susie Larson
Many Christians fail to experience the full power of the Bible's stories because they never learned how to imaginatively 'get inside' the lives of biblical characters to make them come alive. I don't know of any book that better helps readers do this than The Day I Met Jesus. Combining imaginative creativity, historical scholarship, and great story-telling, Viola and DeMuth help readers enter into the lives of five women in the Gospels to experience Jesus from their perspective. And by this means, they help readers deepen their own understanding of, and love for, Jesus. After reading this poignant and gripping book, you won't view these five women, Jesus, or yourself the same way!"

Greg Boyd
An amazing new book that will give you a glimpse of Jesus that you probably never saw before. This is a very unique book."

Dr. Michael Brown
The Day I Met Jesus by Frank Viola and Mary DeMuth is destined to be a classic. Five exquisitely imaginative stories of women from the Gospels describe lives turned upside down by their encounters with Jesus. The book reveals the beauty of our Savior–His character, His compassion, His humility, His humanity, and His divinity. This gem of a book will move you, inspire you, and very likely, set you free."

Felicity Dale
In The Day I Met Jesus, Frank and Mary demonstrate lucid insight into the balanced, candid, focused, tender, and penetrating manner of our Master–Jesus the Christ. See again the Savior who was God and Man embodied to show and transform us by His unpretentious holiness, empowering authenticity–without scorn or condemnation, transmitting love's purity, life's vitality, and hope's eternity. I commend the authors and this book to you: both will enrich and enlarge your thoughts and your life."

Pastor Jack W. Hayford
The women you've always read about. Now, in real life. This fresh new take on timeless stories of the Bible's fiercest heroines will leave you inspired, empowered, and thrilled for more. Thank you, DeMuth and Viola, for this gift to women everywhere."

Claire Diaz-Ortiz
The Day I Met Jesus bears the souls of five familiar women from Scripture and the deep significance of their personal encounters with Jesus. Frank Viola and Mary DeMuth have crafted a beautiful account of these women's stories with a rawness that punctuates the significance of our Savior's grace. May we be so moved to experience the love, joy, hope, and grace of the Jesus portrayed in these pages."

Jenni Catron
Through the stories of five unique women from the Gospels, Frank Viola and Mary DeMuth masterfully reveal the truth of Jesus in a riveting, breathtaking way. Each story captivatingly invites you on a journey through pain, rejection, and brokenness and leads you right into the heart of Jesus as He meets each woman in an intimately restorative and loving way, as only Jesus can. This book will minister to the broken places in your heart and leave you longing to know Jesus more deeply."

Derwin L. Gray
For each of us, the day we met Jesus is to be celebrated, held in awe, memorized, and memorialized. In The Day I Met Jesus, Frank and Mary have enabled us to do just that alongside five women of biblical fame. Their stories are beautifully framed, permitting us to know them and walk beside them as they meet this Man and are forgiven, set free, transformed by His love and grace. And then we are taken deep into the Scriptures and our own hearts to see how Jesus wants to forgive us and set us free and, yes, transform us. You will want to read this book."

Judy Douglass
Everyone loves an amazing true-life story: one kissed with hope and redemption and love. The Day I Met Jesus is a book of such things. Smartly written and personally inspiring, Viola and DeMuth hit the mark on the beautiful lives of broken women who met the God who changed everything. Their powerful stories, written from a first-person perspective, remind me of my own brokenness and the God who rescued me too. I am grateful for this book, and I am moved."

Lisa Whittle
I thought I knew the women in these stories well, but in this beautiful book I met each one in a fresh, personal, and profound way. The life-changing grace and mercy Christ extended to these our sisters so long ago is here right now for you and for me."

Sheila Walsh
It's one thing to skim a story about women meeting Jesus; it's another one to dive deeply into their hearts. The Day I Met Jesus shines the light on desperate lives and Jesus' powerful intervention. These stories made me think about my own transformation by the One I love. If you want to love Jesus more, this is the book for you. Scholarly and accurate, but also tender and beckoning, it's a book you won't want to miss!"

Tricia Goyer
Inventive, engaging, compelling, and filled with freedom, this book will help you see the wonder of our Jesus more clearly. Here is very simply the truth about Jesus and His relationship with women: He loved us. What a powerful truth for women in the world today! Jesus is always the hero of the story. Through this book, we see and know that He is the hero of our stories too."

Sarah Bessey

---
Frank Viola
has helped thousands of people around the world to deepen their relationship with Jesus Christ and enter into a more vibrant and authentic experience of church. He has written many books on these themes, including
God's Favorite Place on Earth
 and 
From Eternity to Here
. His blog,
frankviola.org
, is ranked in the top ten of all Christian blogs on the Web today.
Mary DeMuth is a former church planter in France and the author of more than sixteen nonfiction and fiction books. A sought-after speaker and longtime blogger, she has overcome (through Jesus's healing) a difficult childhood full of neglect, abuse, and familial dysfunction to become a living example of what it means to live uncaged. She lives in Texas with her family. Her website is MaryDeMuth.com.